Kamran Fouladi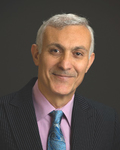 Kamran Fouladi Ph.D., PE. is an Assistant Professor of Mechanical Engineering at Widener University teaching undergraduate and graduate thermal fluid courses. He is an educator, researcher, and specialist in Computational Fluid Dynamics (CFD) and thermal management with more than 25 years of engineering and teaching experience. Kamran is a licensed Professional Engineer in Pennsylvania.
Kamran's career began in aerospace arena working at NASA Langley and United Technologies' Pratt and Whitney (P&W) prior to establishing InfoMec CFD Consulting in year 2000. With InfoMec, Kamran has provided engineering and CFD support to projects of national importance (NASA Crew Exploration Vehicle, NASA Orion's Launch Abort Vehicle, NASA Orbital Space plane, and NASA supersonic transport and business jet aircraft) using in-house, public domain,and commercial CFD software.
Kamran's research work is currently aimed at developing and utilizing state-of-the-art airflow, heat transfer, and energy simulation tools focusing on complex configurations and mission critical applications.