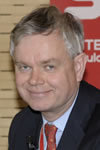 Mark Norris began his engineering career developing a method for the simulation of crack propagation in aircraft structures. He has 35 years of experience of consulting and implementation of information systems for industrial companies. These include Simulation, Computer Aided Design, EDM, PDM, PLM and Simulation Data Management. He has worked for industrial companies, a research institute, software vendors and a leading IT/Engineering consultancy. Half his working life has been spent in France. He has delivered projects for companies in the sectors of Aerospace, Defence, Gas Turbines, Shipbuilding, Automobile, Industrial machinery and Consumer Goods.
Mark believes in Best Practices, Methodologies and Training as key factors in the successful deployment of information systems. He has taught and practiced Solution Delivery and consulting methodologies. He has developed training materials for Aerospace PLM user training for a Defence company and trained 900 engineers. He developed and delivers the NAFEMS Simulation Data Management training course. He is the author of the NAFEMS Simulation Data Management Business Value White Paper and 10's of papers, articles and presentations to international conferences on SDM and SDM deployment. He developed the NAFEMS SDM bibliography so that members can find each of the 200+ papers on SDM.
---
Mark Norris a démarré sa carrière d'ingénieur par un projet de développement et validation d'une méthode de calcul de propagation de fissures dans les structures d'avion. Il pratique le conseil et la mise en œuvre de systèmes d'information pour des sociétés industrielles depuis 35 ans dans les domaines de la Simulation, CAO, SGDT, PDM, PLM et Gestion de Données de Simulation (SDM). Il a travaillé pour des sociétés industrielles, une école, des éditeurs de logiciels et récemment pour une société de conseil en informatique et ingénierie. Il a passé la moitié de sa carrière en France. Il a réalisé des projets dans les secteurs industriels : aéronautique, défense, turbines à gaz, chantiers navals, automobile, machines et biens de consommation.
Mark croit que les trois facteurs clefs pour réussir la mise en œuvre des systèmes d'information sont: de recenser les meilleures pratiques (Best Practices), d'utiliser des méthodologies structurantes et agiles et de proposer une formation approfondie aux utilisateurs. Il a pratiqué, enseigné et développé des méthodologies de conseil et de mise en œuvre de systèmes. Il a développé des cours et des supports de formation pour le PLM Aéronautique, gestion de modification, gestion de configuration et il a formé 900 ingénieurs. Il a développé et enseigne le cours NAFEMS Gestion de Données de Simulation. Il est l'auteur du White Paper NAFEMS Business Value of Simulation Data Management et des dizaines d'articles et présentations au sujet de la gestion de données de simulation et de la mise en œuvre de solutions SDM. Il présente régulièrement à des conférences internationales. Il a développé une bibliographie de plus de 200 articles NAFEMS concernant la gestion de données de simulation pour que les membres puissent les trouver et les utiliser.