Keynote
Speaker
Robert Joyce FReng, BSC, MBA, FImechE
Recently Retired Ex Group Engineering Director and Executive CTEE Member at Jaguar Land Rover (JLR)


Title
Engineering Simulation as Viewed from the Boardroom
Abstract
Simulation has advanced massively over the years and has been fundamental in improving the product creation processes in all industrial sectors.  Reflecting on the growth in software, connectivity, engineering, customer product complexity and improving production simulation methods, how can boardrooms exploit the potential of simulations to the fullest?
Having started my career over forty years ago by writing gaseous emissions simulation programmes for large industrial engines, I realised early on that effective calculation is far better than testing!
Having more recently gained 15 years' boardroom experience driving product development in the automotive industry, I can highlight the use of these methods to the best competitive advantage.  This involves clear alignment of all key stakeholders, clear engagement of the system's simulation expertise, looking beyond existing methods and by driving from the top.
I hope by giving examples across a number of sectors and technologies, I can engage the audience in good and bad practice to ensure simulation is always at the forefront of product development.
Biography: Robert Joyce FReng, BSC, MBA, FImechE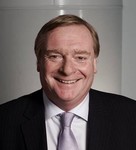 Member of the Board, Engineering Director, CTO and Executive Director, Product Creation and Delivery for Jaguar Land Rover (JLR). Award-winning automotive engineer, who lead the teams and programmes which created all JLR vehicles from 2003 to 2016, and delivered "more great products, faster", including the Evoque, Range Rover, Jaguar F Pace, Range Rover Sport and Jaguar F Type.
Led innovation and creativity, technical and manufacturing excellence and efficiency for world-leading engineering businesses. Recognised for contribution to industry: Fellowship of the Royal Academy of Engineering; honorary doctorate from the University of Leicester; in Debrett's 2015 Top 500 most influential people in the UK and in the Top 15 for industry and technology development.
Expert in product design and development, engineering, technology, digitalisation and programme delivery. Track record in challenging prevailing norms bringing in new thinking, inspiring and motivating large teams of engineers to deliver to consistently high standards in complex situations.
Broad business experience in transformation, restructuring and turnaround, commercial performance, strategic partnerships, global expansion and organisational development. One of JLR's key technology developers, with deep understanding of the route to market for a whole range of technologies, including electronics, powertrain, future electrification and vehicle development.
Passionate leader/ champion for exploiting advance CAE/virtual engineering tools and techniques in the complete engineering process chain, eliminating the reliance on physical verification methods.