Engineering Simulation:
Innovation Leads to Competitive Advantage
Co-sponsored by AIAA and ASME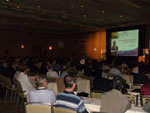 The 11th NAFEMS World Congress was held in Vancouver, Canada, in May 2007. Encompassing every aspect of engineering analysis and simulation, the Congress welcomed over 250 presenters, attendees and exhibitors, in what was the largest and busiest NAFEMS Congress so far. Training courses, workshops and round-table discussions complemented the traditional Congress format, which itself ran over three days, covering over 120 presentations.
With the support and endorsement of both ASME and AIAA, the technical content was unrivalled for an independent event of this size. All industries and analysis areas were addressed, and attendees were drawn from 20 countries from around the globe.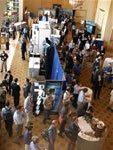 Principal Sponsor of the Congress was Simulia, with additional sponsorship coming from Siemens UGS, Altair, Ansys, Comsol, Icon-CFD, Fraunhofer, and MSC.Software. The exhibition area was packed with 20 of the world's leading software vendors presenting their wares, and product showcases from the Congress sponsors were received well by all who attended.
From the many outstanding presentations made at the Congress, three "best paper" awards were made. The winners were:
Most Innovative Use of Simulation Technology
Development of a Transient Boundary Element Method for Modelling Light-Tissue Interaction
Kelvin Donne, Swansea Institute of Higher Education


Best Practical Use of Simulation Technology
Simulation of Multi-Physical Phenomena In Glass Melting Furnaces
Luuk Thielen,TNO Glass Group


Best Presented Paper
Automatic Optimal Design of Structures Using Swarm IntelligenceJohn Bland, The Nottingham Trent University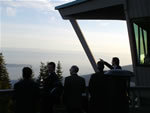 As well as the excellent technical content and networking opportunities, there was also the chance to relax and enjoy everything that this wonderful city has to offer. Dinner at Grouse Mountain provided a spectacular view of the city from 4100 ft high (although the cable-car descent was perhaps not a great idea after dinner and drinks!), and the official Congress Banquet onboard a sunset cruise provided a spectacular setting for catching up with industry colleagues and unwinding after a hectic day at the Congress.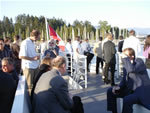 All in all, the NAFEMS World Congress 2007 was a tremendous success, and we would like to thank all of those presenters, sponsors, exhibitors and attendees who helped make the event such a hit. Special thanks must go to the NAFEMS team who worked extremely hard to ensure the event ran like clockwork: Carol Crowther, Jo Davenport, Tami Doughty, Esteban Duran, Gail Heigl, Matt Ladzinski, Ray Miya, Roger Oswald, David Quinn, Paul Steward and Heike Wankel.
---