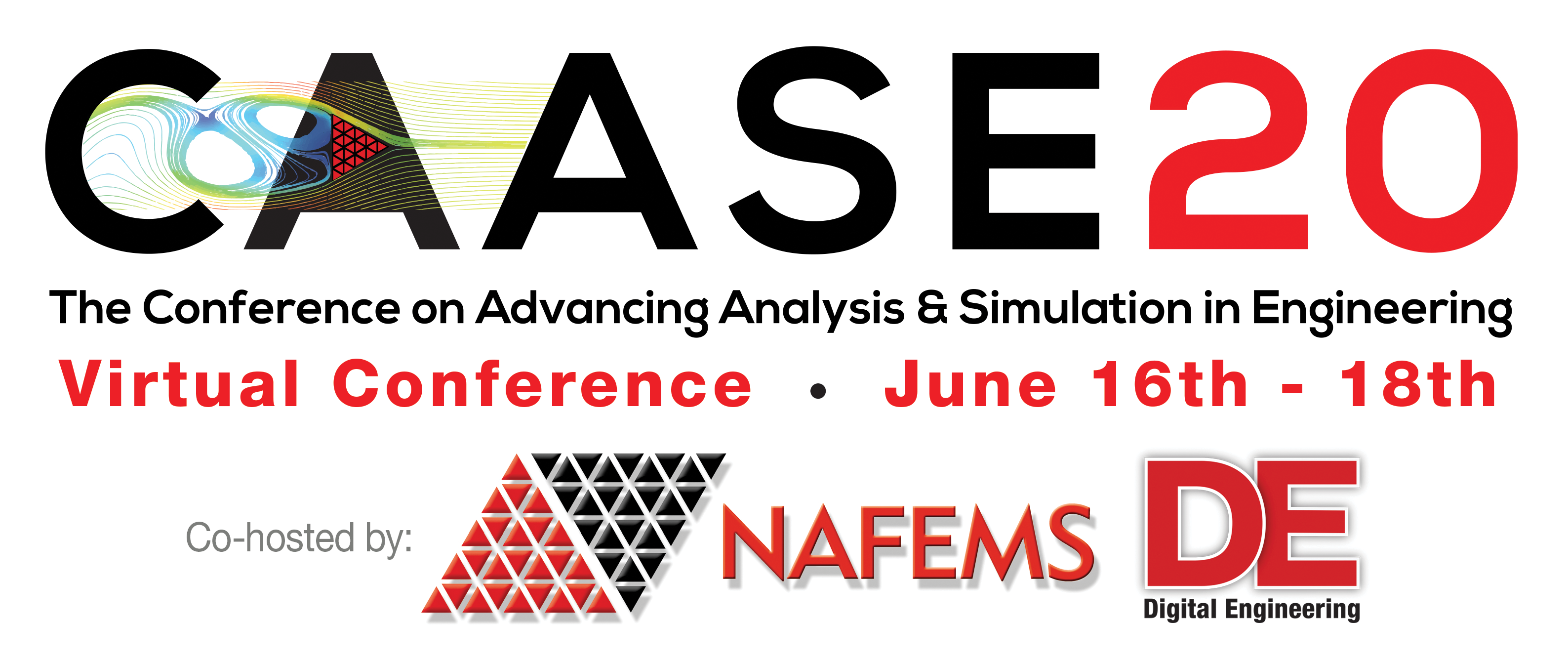 Missed the Live Virtual Conference?
Not to worry. All of the conference presentations, with the exception of training courses, will still be available on the virtual conference platform until mid-July 2020. During this time, we will be migrating all of the content over to the NAFEMS Resource Center to ensure NAFEMS members will have access to all of the excellent contributions delivered during this event.
---
NAFEMS Americas and Digital Engineering (DE) teamed up (once again) to present CAASE, the (now Virtual) Conference on Advancing Analysis & Simulation in Engineering, on June 16-18, 2020!
CAASE20 brought together the leading visionaries, developers, and practitioners of CAE-related technologies in an open forum, unlike any other, to share experiences, discuss relevant trends, discover common themes, and explore future issues, including:
What is the future for engineering analysis and simulation?
Where will it lead us in the next decade?
How can designers and engineers realize its full potential?
What are the business, technological, and human enablers that will take past successful developments to new levels in the next ten years?
This conference covered a wide range of topics, addressing every aspect of engineering analysis and simulation during a virtual 2.5-day program. The four key themes this conference addressed:
Driving the Design of Physical Systems, Components & Products
Implementing Simulation Governance & Democratization
Advancing Manufacturing Processes & Additive Manufacturing
Addressing Business Strategies & Challenges
---
Keynote Speakers
---
Important Dates:
2019
17 June - Abstract Submission Opens
30 November - Abstract Submission Ends
15 December - Abstract Deadline Extension (this is the "final, final" deadline)
2020
31 January - Early Bird Registration Discount Ends
15 February - Notify All Authors of Abstract Submission Results
1 June - Extended Abstract Deadline (for presenting authors)
1 June - Presentation Submission Deadline
16 June - Day 1 of CAASE20
17 June - Day 2 of CAASE20
18 June - Day 3 of CAASE20
Additional important dates will be added as necessary.