Focus on: Manufacturing Simulation
Manufacturing Simulation covers a multitude of processes, materials, techniques, and methods. Almost every engineered object in use in industry or in our homes has undergone a transforming process taking it from a raw material to a finished product. These processes change the shape and, in many cases, the properties of the raw material in order to make the desired item. Successful processes are able to create the end product to the required quality, without flaws or defects, in an efficient manner, with minimal environmental impact and for the optimum cost.
Over the past few years, NAFEMS has produced a significant number of resources on the subject, and we've collected some of these together here.
Many of the resources below are available free for you to download, with others accessible exclusively to NAFEMS Members, e-library subscribers, or to buy directly from our website.
We hope you find this brief update useful. If you have any comments, or thoughts on future areas that you'd like to see us focus on in the future, please get in touch at focus@nafems.org
Manufacturing Process Simulation Working Group
NAFEMS' technical activities are coordinated by a number of specialist working groups, drawn exclusively from the NAFEMS membership.
These working groups identify areas of interest to the analysis community that require new educational materials to be developed.
We recently formed the Manufacturing Process Simulation Working Group, with the mission;
"to promote the development and use of virtual manufacturing tools within the product design and manufacturing cycle to improve outcomes in industrial manufacturing processes."
You can get in touch with the Group by emailing manufacture@nafems.org.
Papers & Articles
A wealth of technical papers & articles have been produced for NAFEMS events and journals, and NAFEMS Members have access to a wide range of these.
We've made some of the material on this subject freely available for you to download below.
HPC Simulation And Optimization Of Material Forming Processes
This paper was authored by J-L. Chenot, G. Francois, O. Jaouen, E. Perchat, L. Ville in support of their presentation at the 2015 NAFEMS World Congress that was held in San Diego, USA on 21-24th June 2015.
The Complete Development Life Cycle of a Metallic Additive Manufactured Part
Article by Steffan Evans, which appeared in the July 2017 edition of Benchmark magazine.
Metal Big Area Additive Manufacturing: Process Modeling and Validation
This paper was authored by S. Simunovic, A. Nycz, M Noakes, V Oancea, C Chin in support of their presentation at the 2017 NAFEMS World Congress that was held in Stockholm, Sweden in June 2017
Moving Towards Virtual Manufacturing
The October 2016 edition of Benchmark Magazine was dedicated to virtual manufacturing. The issue was produced with the assistance of the NAFEMS Manufacturing Process Simulation Working Group, which focusses on process simulation and virtual manufacturing tools, and how they can benefit every industry.
Why Do Manufacturing Simulation?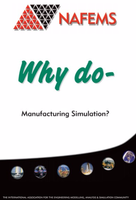 This new book, to be published by NAFEMS in October 2017, aims to demonstrate why it is beneficial to carry out computer-based simulation, in this case specifically of the manufacturing process that transforms raw material into a formed product as part of the product development cycle. The book is aimed at engineers and managers who may be unfamiliar with the scope of manufacturing simulation methods but wish to understand the benefits to their products and processes.
These benefits may be in the form of increased knowledge of the process enabling more successful outcomes, optimisation of the process to ensure that the best quality product is produced at the lowest price, and an improved understanding of the characteristics of the formed component.
Why do Manufacturing Simulation?
Exploring the Design Freedom of Additive Manufacturing through Simulations
In November 2016, we held a seminar in Helsinki, Finland, giving delegates a comprehensive overview of the current state of Additive Manufacturing (AM), along with the challenges, risks, and opportunities – both for simulation engineers and for use within industry.Presentations from industry, research institutes and universities from across Europe covered a wide range of interesting topics. These included sessions on AM process simulation, topology optimization, new design and simulation approaches, and a workshop on the creation of design guidelines for selective laser melting.
Presentations
Numerous presentations on Manufacturing Process Simulation have been delivered at NAFEMS events over the years. A selection of these are now available to NAFEMS members to download for free from nafems.org, and we have highlighted a few of them below.
3D Thermo-Mechanical Model Based Simulation of the Welding of Thermosplastic Composite Tape using Automated Tape Laying (ATL) Process
Presentation made by Y. D. Kergomard, L. Dufort, B. Satheesh, R. Schledjewski and M. Leoben at the NAFEMS Nordic Seminar "Simulating Composite Materials and Structures" that was held in Stockholm, Sweden on the 17th of November 2015.
Application of FE Modelling to Industrial Scale Magnetron Sputter Coating

Presentation made by D. Fulgoni at the NAFEMS UK Seminar "An Introduction to Electromagnetic Simulation Applications" that was held in Warwick, UK on the 9th of March 2016.
Design and Manufacturing Simulation of Additive Manufacturing Components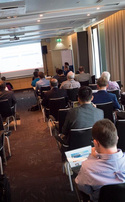 Additive Manufacturing (AM) offers many potential benefits over traditional manufacturing techniques. It enables the generation of complex geometries and lattice structures to make lighter components, can improve thermal performance through more flexible cooling design, avoids the need for expensive tooling for short production runs and may make mass customisation a reality as customers seek more personalised products.
This NAFEMS seminar brought together leading experts in AM to discuss current challenges, the latest simulation techniques and how they are being deployed by leading companies.
Not a Member?
NAFEMS is the international association for the engineering analysis, modelling and simulation community. It has been our mission over the last 30 years to facilitate and promote the safe and efficient use of engineering simulation and analysis. By joining our association, members have the unique opportunity to be part of our growing community.