A seminar for senior managers, technical reviewers and project managers in partnership with NAFEMS, the International Association of the Engineering Modelling, Analysis and Simulation Community.


Overview
Numerical analysis using finite element and finite difference methods has become a mainstream design tool within geotechnics in the last decade or so. This is due to the development of sophisticated yet accessible 2D and 3D computer programs that can realistically model the ground and adjacent structures. With increasing reliance placed on this type of complex modelling effective training in the use of this technology and effective procedures to validate the analyses are required.

This seminar will outline a framework for validation of numerical analysis. The process will be illustrated through a number of case studies across a wide range of projects solving geotechnical challenges.

Undertaking mainstream geotechnical design with numerical methods is relatively new for the industry and senior engineers potentially unfamiliar with the methods are required to put in place structures and procedures to guide the outcome and ensure reliability of design.


Objectives
The objectives of the seminar are:

An overview of the validation process for numerical analysis including highlights from the new NAFEMS book 'Validating numerical models …'
What to expect and what NOT to expect from finite element calculations
What managers of the users of finite element software need to understand
What project managers need to understand
Asking the right questions when guiding and supervising numerical analysis

Agenda
9.45 Welcome & Introduction Peter Scott (Chair of NAFEMS Geotech Committee) First Session - Technical Presentations Chairman, Andreas Zilles (Atkins) Issues and concerns on advanced design procedures Retaining Walls Tony O'Brien &/or YuSheng (Motts)

Piled raft load test
Nina Mattsson (Geos Ingénieurs Conseils)


FE in Geotechnical Applications
Mahee Maheetharan (Atkins)

11.45 Coffee Break

Second Session – Overview of validation process
Chairman, Kelvin Higgins (GCG)

Validation by Managers and Reviewers
Ronald Brinkgreve (Delft/Plaxis)



13.15 Lunch

Third Session – Workshop
Chairman, Mohamed Rouainia (Newcastle University)



Workshop showing the development steps in the design and areas where senior staff can monitor and review whether the outcome is appropriate.

Crossrail
Kelvin Higgins (GCG)



Foundation for High Rise

J Dewsbury/ P Scott (Buro Happold)15.30

Coffee Break

Fourth Session Chairman, Peter Scott (Buro Happold)

Engaging Senior Managers

Tony O'Brien (Motts)

Open Forum – question and answer session

Panel – Ronald Brinkgreve, Tony O'Brien, Kelvin Higgins, Mahee Maheethran16.40

Closing Remarks

Peter Scott (Buro Happold) 16.45

Networking & reception
Venue
CIRIA offices
Griffin Court
15 Long Lane
London
EC1A 9PN
Map Available here
Jointly Organised by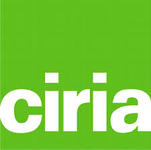 CIRIA is the construction industry research and information association.
As a neutral, independent, not-for-profit body, we link organisations with common interests and facilitate a range of collaborative activities that help improve the industry.
More information regarding CIRIA on their website at www.ciria.org