How Machine Learning Empowers Models for Digital Twins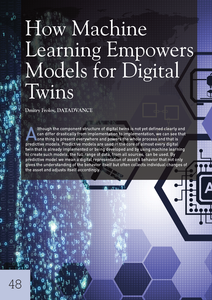 This article featured in the July 2018 edition of benchmark "Artificial Intelligence & Machine Learning - Believe the Hype?"

Although the component structure of digital twins is not yet defined clearly and can differ drastically from implementation to implementation, we can see that one thing is present everywhere and powers the whole process and that is predictive models. Predictive models are used in the core of almost every digital twin that is already implemented or being developed and by using machine learning to create such models, the full range of data, from all sources, can be used. By predictive model we mean a digital representation of asset's behavior that not only gives the understanding of the behavior itself but often collects individual changes of the asset and adjusts itself accordingly.
Document Details
| | |
| --- | --- |
| Reference | Bm_Jul_18_7 |
| Author | Frolov. D |
| Language | English |
| Audience | Manager |
| Type | Magazine Article |
| Date | 1st July 2018 |
| Organisation | DATADVANCE |
| Region | Global |
Download
Purchase Download
| | |
| --- | --- |
| Order Ref | Bm_Jul_18_7 Download |
| Non-member Price | £5.00 | $6.34 | €5.59 |
Back to Search Results