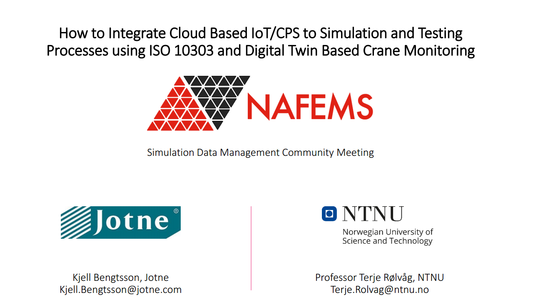 The NAFEMS Simulation Data Management Working Group (SDMWG) regularly invites solution providers to their meetings to describe their Simulation Data Management solutions.

Presenters are asked to bias their presentation to a technical audience of simulation experts and ensure that the content is focused on the technical aspects of the solution offering. When possible, reference customers should be identified.

This resource is a recording of the presentation and subsequent Q&A delivered by Mr Kjell Bengtsson from Jotne and Prof. Terje Rølvåg of the Norwegian University of Science and Technology.
Presentation Overview
This presentation will introduce the ISO 10303 STEP standard with a focus on how users can connect IIoT/CPS solutions and its sensor data directly to CAD, CAE and PLM/SDM models, ensuring performant data exchange, sharing and archiving processes. Several examples will be highlighted, like the Mountain Bike, the Crane of the Gunnerus research vessel and more. The IIoT/CPS Implementation is based on the open source software "Arrowhead Framework", now also available in the Eclipse environment.
Get Involved
If you are interested in presenting your company's solutions to the SDMWG please contact sdmwg@nafems.org.

If you would like to get involved with the SDMWG or be kept informed about future SDMWG activities and meetings please use the form available here.