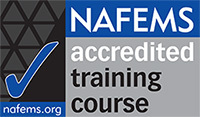 10 Steps to Successful Explicit Dynamic Analysis
Understand, implement, and get the most out of explicit dynamic simulation methods.
Specialised design problems involving short-duration high-pressure loadings generally require the use of explicit dynamics methods to obtain a good answer within reasonable time scales. These problems generally simulate severe loading and material failure, from events such as impact, blast loading, car crash, etc. Some manufacturing simulations in which there is changing contact between components with the material undergoing vast deformation also use explicit dynamics methods, such as metal forging, sheet metal pressing, etc.
Proving the necessary inputs and checking the results is important but often the real source of errors encountered in the simulation is difficult to determine.
This course provides a basic overview of explicit dynamics simulation methods, briefly describing the theoretical nature together with its software implementation and its advantages and disadvantages. It should help engineers carry out explicit dynamics simulations, ensuring accurate and robust solutions with correct analysis choices avoiding possible pitfalls. It should also help engineers distinguish problems that should be solved explicitly or implicitly, thereby providing the least time to obtain a solution.
Attending will explain the solution steps to carry out an explicit dynamic analysis, some of these being different to standard analyses such as controlling the hourglass modes,assigning damping and optimizing the computer time. Issues related to contact definition and avoiding extreme mesh deformation are also described.
Interaction is encouraged throughout the course. Questions and class participation are encouraged, as this is one of the key aspects of making this a unique and positive experience for each attendee.

Course Program
This course combines information, examples, case studies and time for open discussion of the concepts presented.
Brief theoretical background of Explicit Dynamics
Material modelling
Modelling boundaries including contact
Hourglassing and element selection
Time stepping and mass scaling
Simulation considerations
Typical results
Examples in typical sectors distributed throughout the course (e.g. manufacturing, impact, explosion)
Who Should Attend?
This course is focussed on simulation techniques used for highly nonlinear, short duration (high velocity) problems involving contact, impact, large deformations, nonlinear materials, etc.
Interested?
Get in touch to discuss your next steps with our experienced training team. We can work closely with you to understand your specific requirements, cater for your specific industry sector or analysis type, and produce a truly personalised training solution for your organisation.
All NAFEMS training courses are entirely code independent, meaning they are suitable for users of any software package.
Courses are available to both members and non-members of NAFEMS, although member organisations will enjoy a significant discount on all fees.
NAFEMS course tutors enjoy a world-class reputation in the engineering analysis community, and with decades of experience between them, will deliver tangible benefits to you, your analysis team, and your wider organisation.
---