Keynote
Speaker
Mr. Duane Detwiler, Chief Engineer, Honda R&D Americas, Inc.

Title
CAE for Lightweighting Vehicle Development
Abstract
The automotive industry shares the goal to develop advanced vehicle structures which are light weight yet perform well for a variety of performance criteria without incurring significant penalties to manufacturing costs or efficiency. In order to further improve the efficiency of our development process and the quality of our products Honda has increased our ability to predict performance for a given vehicle design using CAE. This presentation will highlight current CAE methods used for virtual validation of vehicle designs and consider challenges for future greater application of lightweight materials and technologies.
---
Biography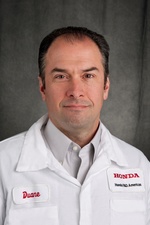 Duane Detwiler is a chief engineer and manager of the Strategic Research department at Honda R&D Americas, Inc. (HRA) in Raymond, Ohio. Detwiler's career at HRA has focused on vehicle simulation, materials and safety, earning him multiple patents.
Detwiler joined HRA in 1996 as an engineer specializing in computer aided engineering for vehicle structures. He had a key role in the development of the 2006 Honda Ridgeline as the project leader of vehicle body performance. Detwiler has held several management positions at HRA, overseeing vehicle simulation, reliability and research operations.
Detwiler holds five patents and has co-authored more than a dozen publications related to vehicle simulation, materials, structures and safety. He has been invited to speak at several engineering and manufacturing workshops and symposiums. Additionally, Detwiler has won the HTC award for Excellence in Computer Aided Engineering and the Honda R&D President's Award.
In addition to his work for Honda, Detwiler serves on several boards and committees, including the National Science Foundation Industry / University Cooperative Research Center for Smart Vehicle Concepts, the Global Human Body Models Consortium, the Ohio Supercomputer Center and OARnet.
Detwiler earned a Bachelor of Science and a Master's degree in Aeronautical and Astronautical Engineering from The Ohio State University. Detwiler currently lives with his wife and two daughters in Powell, Ohio.