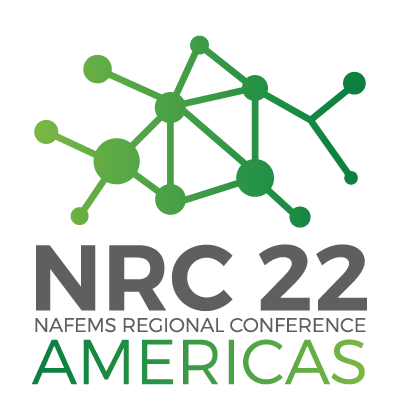 NRC22 Americas
Sponsor
Join us in Indianapolis!
NAFEMS would like to extend an invitation to your company to be part of the NAFEMS Americas Conference 2022 in Indianapolis, Indiana.
Sponsorship of NRC22 Americas offers a unique opportunity for maximum exposure to a highly targeted audience of delegates, who are all directly involved in simulation, analysis, and design.
Team with NAFEMS
Sponsors have the opportunity to promote their participation prior to the event. Your participation in this regional conference will provide a positive impression of your company's commitment to best practices.
The Event
NRC22 Americas will bring together the leading visionaries, developers, and practitioners of CAE-related technologies in an open forum, unlike any other, to share experiences, discuss relevant trends, discover common themes, and explore future issues. The goal is to provide attendees with the best thought-provoking content to deploy simulation now and in the future.
Benefits
There are numerous benefits to sponsoring the conference:
Promote your company to a large but highly focused group of individuals who have a pre‐qualified interest in your product
Establish important contacts within the industry
Increase your company's visibility and standing in the analysis community
Showcase your latest product releases and service offerings
Discover exactly what your target market needs from you, and what trends are emerging across the industry

Opportunity
Sponsorship is an excellent way of raising the visibility of your company with the delegates, many of whom are in a position to influence, or approve, the purchase of software, hardware, and consultancy solutions
Sponsor Package $6,000 (Member Rate) / $7,500 (Non-Member Rate)
Exhibitor space, measuring 8 ft (w) x 8 ft (d), with electrical connection (120v/5a)

Recommending sponsors bring a powerstrip
Note: Please ensure the contents of your booth does not extend beyond the dimensions noted above for your allocated booth space. Booth contents which extend beyond the allocated space will not be permitted.

Table topped in white vinyl with black skirting, and two chairs
Pipe & Drape (back and sides)
Attendance of 2 staff members at the event
Inclusion in email promotions to delegates in advance of the conference
Logo and link to company website on NRC22 Americas website
Logo on conference program
One digital item (PDF) shared with attendees

Send to americas@nafems.org before Friday, May 13th (file size 5mb or smaller)

List of attendees with contact details (subject to opt-in)
Interested in sponsoring, but want to give your company additional visibility? Take a look at the NRC22 Americas Platinum Sponsor option.
Cancellation Policy for Sponsorships: Because we want to ensure the maximum amount of coverage and recognition for NRC sponsors, we act quickly to upload sponsor logos and publish announcements about sponsorship support. Therefore, sponsorships cannot be cancelled.