BENCHMARK January 2023
Better. Leaner. Faster. Stronger.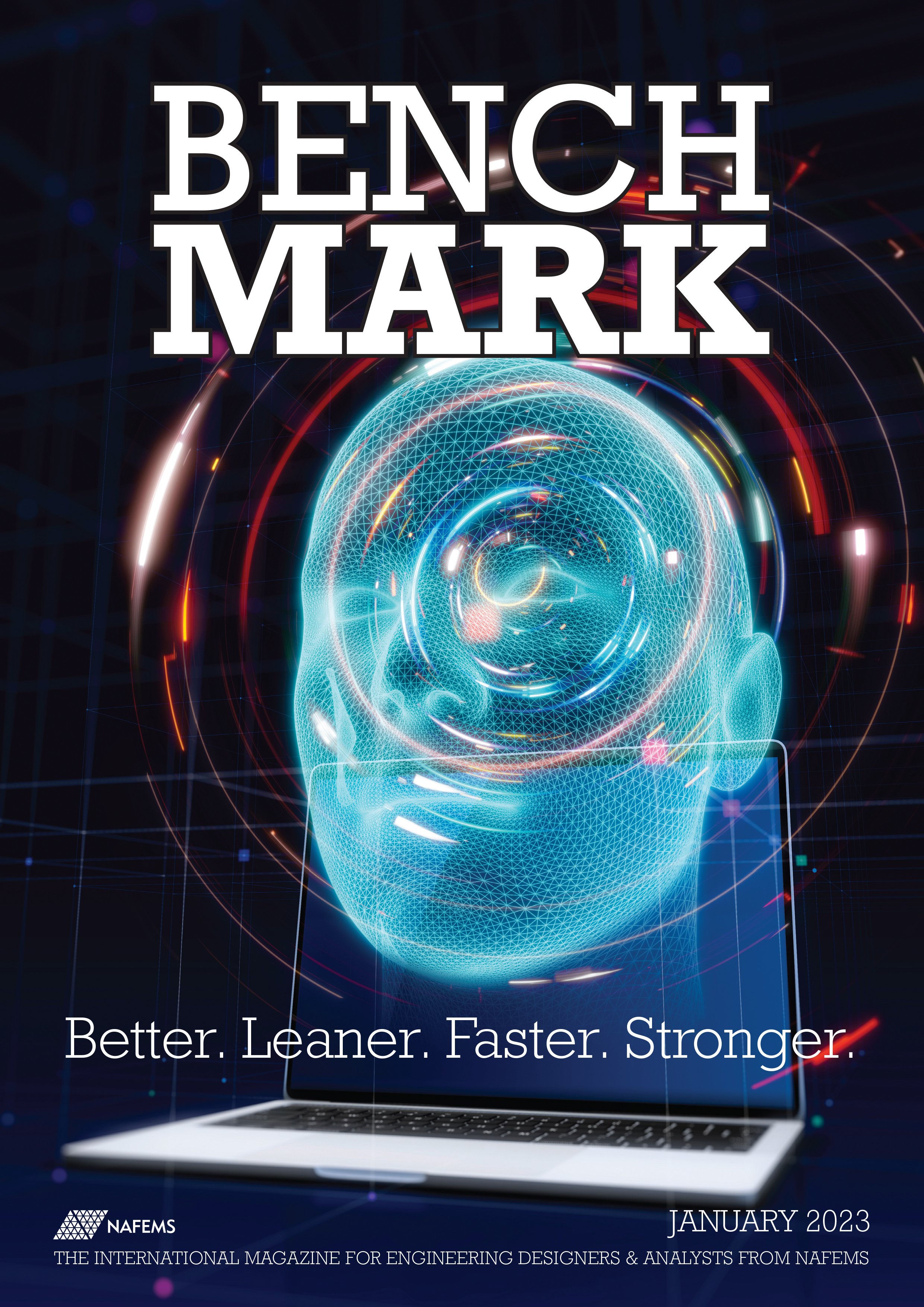 In this Issue:
(click on the titles to download the individual articles)
BENCHED
View From Your Editorial Team
Welcome to 2023! Lately, it feels like the passing of every year leaves us wondering a) how on earth we got through the last one and b) exactly what is around the corner for the next 12 months. Luckily, your trusty editor can answer both those questions – albeit only partially.
Last year saw NAFEMS return, in earnest, to in-person events worldwide. Our NAFEMS Regional Conference series (NRC22) welcomed more than 1,100 of you to events around the globe. As an organization which has been hosting events and conferences for the past 40 years (yes, we're 40 this year!) , we can't emphasise enough just how good it was to see you all again. Of course, we worried if we'd remember how to run a conference, wondered how many people would want to come back in person, and all of us held our collective breaths on the first day of each event, but we needn't have worried. You, the community, came together like never before, and were part of a series of conferences that were engaging, lively, thought-provoking and, above all, in person and face to face. Thank you for being part of it.
As well as getting back to meeting in person, we also continued along the path of providing more online content. If these past few years have taught us anything, it is that we need to be adaptable, and that there is no "one-size-fits-all" solution for, well, pretty much any problem. So online events and communication are firmly here to stay, and will remain part of the mix. Personally, I'm glad this is the case – online events can't replace meeting in-person, but they don't have to. It feels like comparing apples with oranges – i.e., yes, they are both ways of disseminating content, inspiring innovation, and communicating with colleagues and peers – but they taste different, and have different uses depending on the circumstance. Clumsy metaphor, I know, but hopefully you take my point. We've learned a lot, necessarily, since 2020 in terms of how we network, communicate and work together – and all of those lessons are still valid as we roll back a little, back to how we worked before.
So – what's 'round the corner this year? It's the big one – the NAFEMS World Congress 2023. Back in person for the first time since 2019, we're excited to be hosting what is shaping up to be yet another ground-breaking international gathering of the simulation community. Our call for abstracts closed in November, and we are delighted with both the number, and quality, of abstracts submitted. This will be a fantastic Congress, and we can't wait to get together in Tampa, Florida, this May, with as many of you as possible. We hope you'll be able to come along!
In addition, after last year's acquisition of the ASSESS Initiative, we have the annual ASSESS Congress in Atlanta in March. This is an exclusive event, not like any other conference – the agenda is centered around the collective thoughts and ideas of the attendees. It's highly interactive, with the plenary splitting into discussion groups and workshops on selected themes and topics, then reporting back with findings and discussion points. We're looking at how we can continue to lead simulation from the front, and make sure we're heading in the right direction. You might call it a "think-tank" – and we're excited that it's now part of NAFEMS!
We've got some excellent content in this issue – and it's mostly in two strands. In the first strand we have some great content on the business of simulation, covering predictive maintenance using reduced-order models, as well as a look at Lean business and thoughts from the software vendors on what 2023 holds. A 2nd strand gives us articles on both machine learning and deep learning / artificial intelligence. That covers the head, and with an excellent piece on knee replacement included, the only thing I'm disappointed about in this issue is that we don't have any articles on shoulders or toes. Think about it. I'll wait.
And with that daddest of dad-jokes, I'll leave you to enjoy this issue of benchmark.
David Quinn - Editor
If you have feedback or would like to see your article featured in benchmark contact benchmark@nafems.org