BENCHMARK July 2022
Simulation is our reality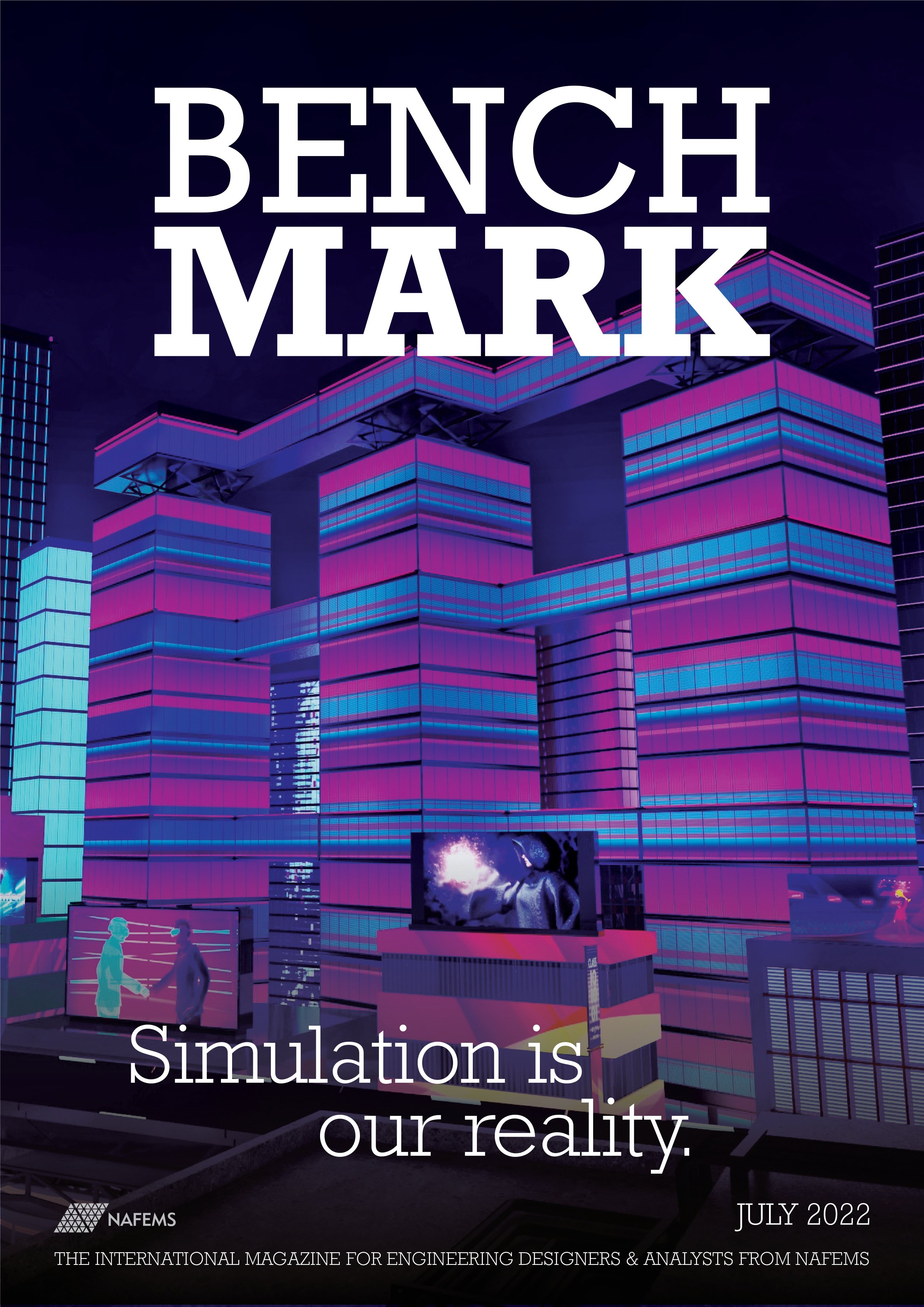 In the BENCHMARK July 2022 Issue, you will find out about:
(click on the titles to download the individual articles)
BENCHED
View From Your Editorial Team
We were delighted to welcome many of you back to our regional conferences over the past few months in Milton Keynes, UK, and Indianapolis, USA, moments we'd been waiting for since 2020. The interaction, exchange of ideas, and question & answer sessions seemed to have a renewed vigour and energy, which we were delighted to see. With several hundred presentations across the two events, workshops, discussions, and networking– not to mention actually having lunch with people! – both events were a resounding success. We are very much looking forward to the rest of the NRC programme this year in Germany, Spain, the Czech Republic, Sweden, and France. Online events are definitely here to stay, but the return of the in-person conference has shown us exactly what we've been missing this past couple of years.
All this leads us to the big one – the NAFEMS World Congress 2023. To be held in Tampa, Florida, NWC23 promises to be bigger, better, and bolder than ever. We're bringing the simulation world together, in person, for the first time since 2019. We'll cover every aspect of engineering simulation alongside all the major vendors, industry experts, thought leaders, and most importantly, you. The call for papers is currently open, and we urge you to take a look and get involved. We're already planning to make this an event you don't want to miss, and the best way to take part is to present, attend, network, and enjoy! Take a look at nwc23.org and submit your abstract.
This issue of Benchmark is spotlighting the cutting edge of simulation in the real world. It's often easy to get lost in theory and hypothetical problems, so it's refreshing to bring you a number of pieces looking at real, current issues that simulation can help to solve. We're looking at the recent case of "porpoising" in Formula 1 with an excellent, in-depth discussion from Steve Howell, who leads our CFD Working group. Shawn Carpenter looks at how 5G phone masts have affected aircraft safety – one more reason to make sure you switch to flight mode before take-off! And from up in the air, Andy Richardson from our Business Impact Working Group, brings us back to earth with a look at how implementing a modelling and simulation strategy can benefit your business. We're also introducing a new series on "The Business of Simulation" with industry analyst Monica Schnitger, who this month is looking at why simulation needs to 'shift-left' to the front of the design process. Enjoy the magazine, submit your NWC23 abstract, and we'll hopefully see you soon, in person, at an upcoming event!
David Quinn - Editor
If you have feedback or would like to see your article featured in benchmark contact benchmark@nafems.org