BENCHMARK April 2023
NAFEMS World Congress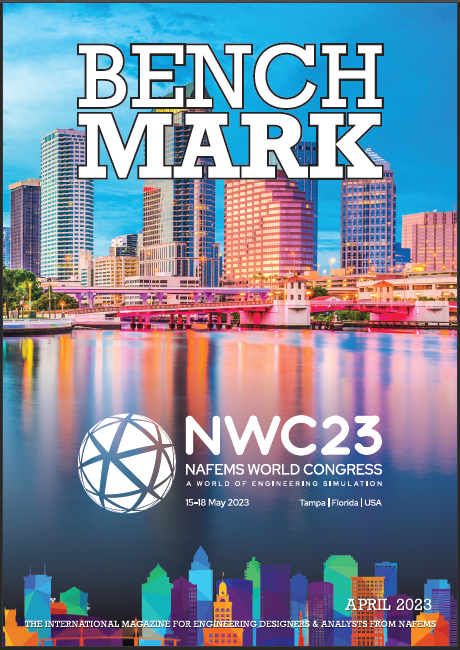 In this Issue:
(click on the titles to download the individual articles)
BENCHED
View From Your Editorial Team
Welcome to the 2023 NAFEMS World Congress edition of benchmark. It's been a long time coming, but all things being equal, this will be our first in-person World Congress since 2019, and one we've been desperately looking forward to hosting. When we started the planning process and set off on the journey that will take us to Tampa this May, I have to admit we were a little apprehensive about what lay ahead. We asked you, the community, to tell us if you wanted a return to in-person events like this, and while the feedback was an overwhelming "yes", you never quite know just how much those answers are actually going to translate into active participation.
Early signs were extremely encouraging, with a huge response to our call for abstracts. As I write this today, (it is the morning after an absolutely astounding victory for the Scotland men's football (soccer) team over the mighty Spain, so I'll admit to being a little giddy with optimism), attendance figures look to be, at the very least, on par with previous congresses. The number, and variety, of sessions this time is truly inspiring, and I can't wait to get started on what will, personally, be my 11th NAFEMS World Congress.
The full agenda and all the associated detail is available at nafems.org/congress, and this time you'll be able to navigate the Congress on site using our new online agenda tools and guides. If you haven't already registered, and you're thinking about coming along, I encourage you to take the plunge and do it. Many of our Congress attendees come back year after year, because they recognise there is simply no other event quite like it. The NAFEMS community is a welcoming and inclusive one, and we want everyone to be part of it.
A big thank you goes to the sponsors of the Congress – the event simply wouldn't be possible without their continued support. Be sure to spend time in the exhibition area talking to them, and getting a head-start on the future of simulation technology.
This issue of benchmark leans into many of the major topics we'll be covering in Tampa. We're delighted to have an excellent insight into the Digital Twin from Vladimir Balabanov at Boeing, who is also chair of our Engineering Data Science Working Group. Monica Schnitger discusses AI in simulation (in an article written before today's plea for a "pause" in the "AI arms race" from researchers and execs nafe.ms/ai), and we also have an exploration of several HPC case studies from the EU funded FF4EuroHPC project. Louise Wright from NPL continues our focus on ICME, and we have a fascinating article on the concept of thermal runaway in electric motorsport from WAE Technologies.
Enjoy this issue of benchmark, and, as ever, if you're reading this in Tampa at the Congress, mine is a double Kraken with ice and lime
David Quinn - Editor
If you have feedback or would like to see your article featured in benchmark contact benchmark@nafems.org