BENCHmark July 2004
Safety in Numbers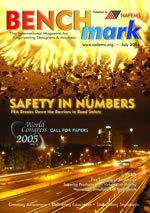 In this issue:
One of the great privileges of my role in NAFEMS is to be able to meet many well informed people who are closely involved with engineering simulation: engineers and managers from different countries, different industry sectors, using different software tools, in different disciplines of engineering.
It is particularly interesting to hear different views expressed about the future of simulation. A number of common themes frequently seem to get mentioned. One of these is increased integration. This can take many forms: the integration of analysis into the overall design and development process, the integration of different analysis tools, the integration of analysis between different companies and different countries, to name but a few. Developing the necessary software tools to enable such integration is one thing, but what about the people issues?
At a recent NAFEMS committee meeting, the subject of "FEA versus Test" was raised, which prompted a lot of lively discussion about the relative merits of "real" testing and "virtual" testing. Coincidentally, the next week I made a presentation about NAFEMS at an international conference on testing. From both sets of discussions, it was clear that analysts understand that simulation will never totally replace physical testing, and test engineers appreciate that simulation can do much to inform decisions about which tests to perform. However, these two sets of engineers are usually quite separate groups of experts. Few people have the suitable experience to enable them to integrate and combine the benefits of both techniques.
On a similar theme, in this issue we have an article about the controversial subject of the use of analysis by another (often) separate group: nonspecialist design engineers. We are all aware of the ongoing debate about whether this is appropriate and, if so, how it should be managed.
If we are to achieve the goal of integration, to allow the full potential of simulation to be realised, I believe that we must look at ways of tackling the people issues as well as the software issues. Bridges need to be built between analysts and those in related disciplines: test engineers, design engineers and others. We must also look to build bridges between users of different analysis disciplines: FEA and CFD for example. NAFEMS is striving to help build these bridges.
Tim Morris Chief Operating Officer
July 2004