This Website is not fully compatible with Internet Explorer.
For a more complete and secure browsing experience please consider using
Microsoft Edge
,
Firefox
, or
Chrome
Bayesian Optimisation for Multi-concept, Multi-task and Robust Optimisation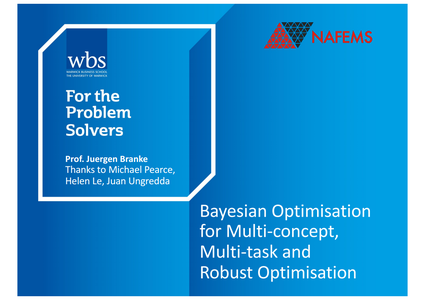 Optimisation Community Event
Abstract
Bayesian optimisation is a relatively new optimisation paradigm closely linked to machine learning. It is particularly useful for simulation-based optimisation where the evaluation of a solution is computationally very expensive and thus only few solutions can be evaluated. This webinar by Juergen Branke, Professor of Operational Research and Systems at Warwick Business School, University of Warwick, gives a short introduction to Bayesian optimisation, and then discusses three extensions for particular applications:
Multi-concept optimisation, where a higher level concept choice needs to be made along with lower level design parameter optimisation
Multi-task optimisation, where one is interested in understanding which design works best depending on the scenario and
Robust optimisation, where one is looking for a design robust to disturbances such as manufacturing tolerances.
Presenter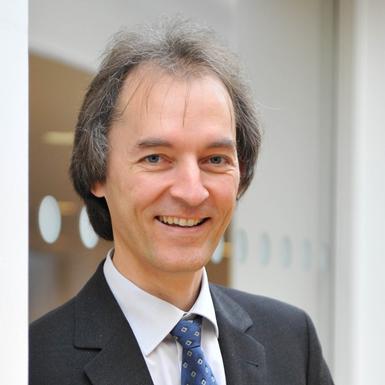 Juergen Branke is Professor of Operational Research and Systems at Warwick Business School, University of Warwick (UK). His main research interests include metaheuristics and Bayesian optimisation applied to problems under uncertainty, such as simulation optimisation, dynamically changing problems, and multi-objective problems.
Prof. Branke has published over 180 papers in international peer-reviewed journals and conferences. He is Editor of ACM Transactions on Evolutionary Learning and Optimization, Area Editor of the Journal of Heuristics and the Journal on Multi-Criteria Decision Analysis, as well as Associate Editor of IEEE Transactions on Evolutionary Computation and the Evolutionary Computation Journal.
About this event
This event was hosted by the NAFEMS Optimisation Working Group (OWG). The OWG has formed an online Community to help disseminate best practice and encourage the adoption of optimisation methods and technology. For more information and to get involved go to the Optimisation Community webpage.
Document Details
| | |
| --- | --- |
| Reference | W_Dec_20_Global_4 |
| Author | Branke. J |
| Language | English |
| Audience | Analyst |
| Type | Webinar |
| Date | 14th December 2020 |
| Organisation | University of Warwick |
| Region | Global |
Download
Back to Search Results