Rock & Roll Hall of Fame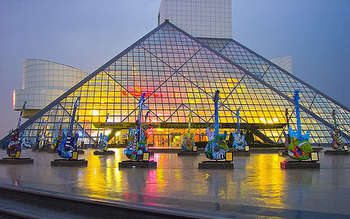 We are excited to announce that attendees of CAASE18 will have an opportunity to visit the world's foremost museum devoted to the celebration and preservation of rock & roll music - the Rock & Roll Hall of Fame. Plan to spend a minimum of 2 hours perusing artifacts of music history and interacting with audio-visual exhibits.
We will provide bus transportation to/from the Huntington Convention Center and the Rock & Roll Hall of Fame (0.6 mile distance so easily walkable). The Rock & Roll Hall of Fame is also a short distance from the recommended hotels (Doubletree: 0.5 miles / Drury Plaza: 0.7 miles).
Upon arriving at the Rock & Roll Hall of Fame, participants will be treated to food and beverages (three meal options available, plus two drink tickets).
When, Where and How?
Date: Wednesday, June 6th
Start Time: Will be announced when the agenda is published, but buses will start following the conclusion of the final sessions scheduled for that day.
Where Do I Sign-Up?
The Rock & Roll Hall of Fame attraction and dinner are included in your event registration, so no action is required for the individual registered to attend the conference. Anyone interesting in bringing a "+1" must visit the "Additional Rock & Roll Registrations" page and purchase the "+1" registration there.
History
In 1985, when the Rock & Roll Hall of Fame Foundation was deciding where to open its physical museum, Cleveland threw its hat into the ring for consideration. Thanks to a groundswell of public support and a $65 million commitment from city officials, the Foundation chose Cleveland as the winning site, over locales such as New York, San Francisco, Memphis and Chicago. Needless to say, the Rock Hall's construction was cooler than most. On June 7, 1993, the Who's Pete Townshend, Chuck Berry, Billy Joel, Sam Phillips, and Ruth Brown (to name a few) attended the Cleveland groundbreaking ceremony, while Jerry Lee Lewis performed a year later when the building was finished off with the placement of one last steel beam.
The Rock & Roll Hall of Fame threw open its doors on September 2, 1995, and celebrated with a blockbuster benefit concert at nearby Cleveland Municipal Stadium. This marathon show featured once-in-a-lifetime pairings (for example, Chuck Berry's mischievous onstage collaboration with Bruce Springsteen & The E Street Band) and performances by greats such as James Brown, Bob Dylan, Jerry Lee Lewis, Aretha Franklin, Johnny Cash and Booker T. and the M.G.s. Besides the Municipal Stadium concert, the Rock Hall's festive opening weekend featured a downtown Cleveland parade and a ribbon-cutting ceremony attended by Little Richard and Yoko Ono.

Building Architecture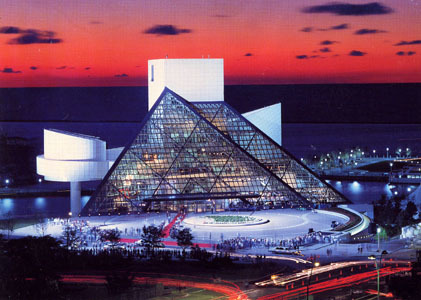 Designed by internationally renowned architect I.M. Pei, the Rock & Roll Hall of Fame is one of Cleveland's most striking (and recognizable) pieces of architecture. The 150,000-square-foot building has a glass-enclosed, double pyramid adjacent to a 162-foot tower, both of which soar above the shores of Lake Erie. Upside-down cars from U2's Zoo TV tour greet visitors in the sun-filled lobby atrium, which often hosts concerts and other special events, while a nosh-worthy café and the museum store offer plenty of dining and shopping options.
The Rock Hall's exhibition space stretches over 55,000 square feet and seven levels, and features plenty of nooks and crannies filled with multimedia goodies to explore. In the coming years, the building's already-bustling, brick-lined, 65,000 square-foot outdoor plaza will become a community gathering place filled with the sound of frequent live performances.
For additional information, visit: https://www.rockhall.com
---