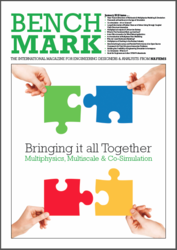 In this Issue...
Near-Future Directions of Multiscale & Multiphysics Modeling & Simulation

Personalized Healthcare in the Age of Simulation

Co-simulation - Art or Science?

Large Deformation of Rubber Sleeves in Valves Using Strongly Coupled Fluid-Structure Interaction

Multiphysics Analysis of Lithium Ion Battery

What is The Functional Mock-up Interface?

Aero-Vibro-Acoustics for Wind Noise ApplicationsAn Introduction to Multiphase Flow Modelling

Why do I need Multiscale Modeling?

Multiphysics of Sloshing in the Nuclear Industry

Benchmarking Accuracy and Parallel Performance of an Open Source

Framework for Fluid Structure Interaction Problems

Building the Credibility of Engineering Simulation in Aerospace

Co-Simulation - What is it?

Excel for Engineers and other STEM Professionals
Hands-up – we're late. That's the problem with trying to squeeze so much engaging content into one magazine with an incredibly small editorial and print team over the Christmas break (happy new year, btw) (Can I say "btw"? Is that allowed?).
The only redeeming feature of our lateness is the fact that I'm writing this editorial on January 25th, which, if you're from the same parts as I am, means only one thing. It's Burns Night. Not the third-degree kind (that would be a silly celebration), no. Rabbie Burns. Scotland's national poet. C'mon – science isn't THAT far removed from the arts, is it?
So, whilst I contemplate addressing my haggis this evening (steady), I've decided to present this month's editorial in a form that would make Rabbie proud. Probably.