This Website is not fully compatible with Internet Explorer.
For a more complete and secure browsing experience please consider using
Microsoft Edge
,
Firefox
, or
Chrome
NAFEMS Workbook of Examples
NAFEMS Workbook of Examples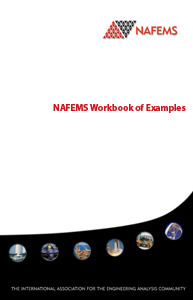 The Workbook forms one of a series of NAFEMS publications aimed at promoting awareness of Finite Element theory and practice. In particular, this document complements the Finite Element Primer and the Guidelines to Finite Element Practice and is intended to be used both as supplementary documentation to the NAFEMS recommended 30 hour Finite Element training course (summarised in Appendix A), and as a personal reference for the junior analyst.
Throughout the workbook the exercises are kept geometrically simple, to minimise the modelling effort required, ensuring that the reader can complete each task without resorting to the use of graphical preprocessors.
Contents
GENERAL INTRODUCTION
Purpose And Layout of Workbook
Overview of Examples
EXERCISE 1 – SINGLE BAR ELEMENT
Problem Specification

Analysis Specification

Discussion
Introduction
Theory
Target solution
Discussion of Analyses
Discussion of Further Analyses
EXERCISE 2 – SINGLE BEAM ELEMENT
Problem Specification

Analysis Specification

Discussion
Introduction
Target solution
Discussion of Analyses
Discussion of Further Analyses
EXERCISE 3 – TWO-DIMENSIONAL PATCH TEST
Problem Specification

Analysis Specification

Discussion
Introduction
Target Solution
Discussion of Analyses
Discussion of Further Analyses
EXERCISE 4 – CONTINUUM BEAM – TIP LOADED
Problem Specification

Analysis Specification

Discussion
Introduction
Theory
Target Solutions
Discussion of Analyses
Discussion of Further Analyses
EXERCISE 5 – INFINITE THICK PIPE
(Treated as 2D)

Problem Specification

Analysis Specification

Discussion
Introduction
Theory
Target Solutions
Discussion of Analyses
Discussion of Further Analyses
EXERCISE 6 – BIMETALLIC STRIP
Problem Specification

Analysis Specification

Discussion
Introduction
Theory
Target Solution
Discussion of Analyses
Discussion of Further Analyses
EXERCISE 7 – TAPERED CANTILEVER
Problem Specification

Analysis Specification

Discussion
Introduction
Theory
Target Solution
Discussion of Analyses
Discussion of Further Analyses
EXERCISE 8 – HOLE IN A PLATE UNDER TENSION
Problem Specification

Analysis Specification

Discussion
Introduction
Target Solution
Discussion of Analyses
Discussion of Further Analyses
EXAMPLE 9 – FLAT BAR WITH EDGE NOTCHES
Problem Specification

Analysis Specification

Discussion
Introduction
Theory
Target Solution
Discussion of Analyses
EXERCISE 10 – CYLINDRICAL SHELL
Problem Specification

Analysis Specification

Discussion
Introduction
Theory
Target Solution
Discussion of Analyses
Discussion of Further Analyses
APPENDIX A : NAFEMS 30 HOUR F.E. COURSE
APPENDIX B : REFERENCES
Product Details
Member Price
£20.00 | $24.77 | €23.04
Non-member Price
£60.00 | $74.31 | €69.12

About
A.N. Pickering & D.C. Ricketts
First Published - January 1990
Softback, 61 Pages