Democratization History at Accuride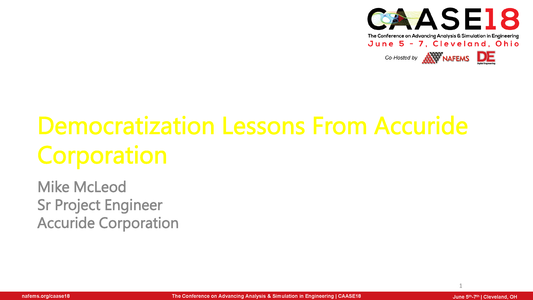 This presentation was made at CAASE18, The Conference on Advancing Analysis & Simulation in Engineering. CAASE18 brought together the leading visionaries, developers, and practitioners of CAE-related technologies in an open forum, to share experiences, discuss relevant trends, discover common themes, and explore future issues.

Resource Abstract

The term "Simulation Democratization" is a term that is misunderstood by many even though the concept has been around for several decades. Within the context of this presentation, "Simulation Democratization" will mean the bundling and automation of processes for evaluating and predicting the fatigue performance of commercial truck wheels at Accuride Corporation. Accuride is a leading North American manufacturer of commercial steel and aluminum wheels for vehicles like tractor trailers. For commercial wheels significantly more emphasis is placed on durability and design efficiency than on the styling that is seen in automotive applications. To achieve highly efficient designs Accuride relies strongly on engineering analysis methods. The author's 20+ years of experience with Accuride provides lessons learned from five different simulation democratization efforts dating back to 1996.



The justification for each democratization effort has always been the same. The objective has been the need to lower costs, weight, and time to market while increasing (or maintaining) durability and margin standards. To achieve this object the product development tools need to be more accurate, flexible, realistic, and efficient.



In 1996 Accuride undertook a democratization effort to create an Instant Design and Engineering Analysis by the year 2000. This was better known as IDEA2000. IDEA2000 prompted the user for the desired wheel parameter and then tried to automatically create a CAD model and associated FEA model to meet the criteria. The program was supposed to iterate to achieve the "optimal" design.



While IDEA-2000 was being implemented and interim democratization approach was developed using the same CAD and FEA system. A macro based approach following the FEA modeling process was created. A series of macros allows improved efficiency in the modeling process.



Based on the lessons learned from IDEA2000 and the macro based system a new semi-automated design tool was created to take CAD input with design parameters to automatically perform the engineering analysis and provide a summary report for each analysis. This democratization effort was labeled AccuFast and was highly successful.



Up through the implementation of AccuFast all FEA modeling was done using linear FEA methods. The need to increase model fidelity saw more analyses requiring nonlinear analysis method to handle contact, plasticity, and bolt loading. The FEA modeling process shifted back to manual a method but using much more user friendly interfaces than existed years earlier. As the software user interfaces improved it became possible to build model templates that included all the model definition except geometry. Changing geometry and updating a model was about 80% effective.



The current democratization approach is an expansion of the template models except that there is no initial template. Using Python programming with access to the FEA software database the "template" is created after the user inputs design parameters. By using custom python scripts programming logic can be used to evaluate geometry and create individual analysis models. Existing software capabilities can be used or new ones can be created.



A summary of lessons from the various democratization attempts is provided including which efforts were considered more successful. Democratization efforts can be expensive and time consuming to implement. Knowing some of the pitfalls and keys to success will increase the chances for future high returns on investment of democratization programs.
Document Details
| | |
| --- | --- |
| Reference | CAASE_Jun_18_118 |
| Author | McLeod. M |
| Language | English |
| Type | Presentation |
| Date | 5th June 2018 |
| Organisation | Accuride Corporation |
| Region | Americas |
Download
Back to Search Results