Stewart B Morrison
CEng FIMechE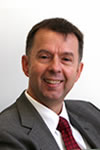 Stewart Morrison graduated from Imperial College London with an honours degree in Aeronautical Engineering. A chartered engineer with the Institute of Mechanical Engineers (FIMechE) in the UK, he also a Registered Analyst under the NAFEMS scheme (now PSE scheme), and a member of the NAFEMS Council of Management.
Since graduation, Stewart has spent 40 years in the engineering service industry. When Stewart worked at Structures and Computers Ltd (Strucom), he was responsible for the very successful development of the ANSYS distribution channel in the UK, Ireland and the Netherlands. Major clients included Rolls Royce, GEC and Philips. The annual software turnover exceeded $5,000,000 and he was managing key technical, sales and administration personnel working out of 3 offices in the UK and offices in Ireland and The Netherlands. During this time, Stewart worked very closely with the developers and was instrumental in the setting up and working on a number of ANSYS Distributor/ SASI councils that had an influencing effect on the development and marketing direction of the ANSYS program.
For the last 20 years, Stewart has been involved very much in a sales and marketing role for software, analysis and environmental engineering services. He has worked for MARC (UK) Cape Engineering, QuEST Europe and, most recently, LUSAS. In addition to ANSYS and MARC experience, he has a working knowledge of Nastran, Sesam69, FEMAP, CADfix, CFDesign, fe-safe and Adams.