This Website is not fully compatible with Internet Explorer.
For a more complete and secure browsing experience please consider using
Microsoft Edge
,
Firefox
, or
Chrome
Where Do We Get the Courage to Sign the Blueprint?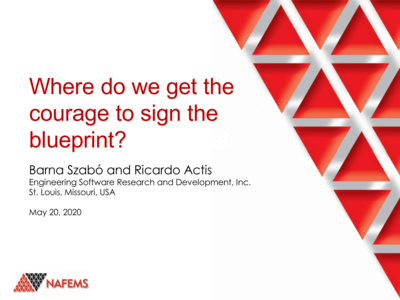 In this webinar the sources of error in numerical simulation and methods used for controlling them will be discussed. It is shown that when the size of the numerical errors in the quantities of interest (QoI) are not known then it is not possible to certify that a design is in compliance with the design rules. Therefore error estimation in terms of the QoI is an essential technical requirement. Error estimation is possible only when the mathematical model is properly formulated.

This webinar will also highlight the differences between finite element modeling and numerical simulation. The creative aspects of formulating mathematical models and objective methods for ranking their performance are addressed and the importance of simulation governance and management is emphasized.
Document Details
| | |
| --- | --- |
| Reference | W_May_20_Global_5b |
| Authors | Szabó. B Actis. R |
| Language | English |
| Audiences | Analyst Manager |
| Type | Presentation |
| Date | 20th May 2020 |
| Organisation | ESRD |
| Region | Global |
Download
Back to Previous Page