Using Simulation to Improve Durability
Awareness Seminar on 21st May 2018 in Brno, Czech Republic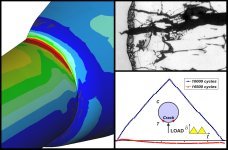 According to Battelle between 80-90% of all structural failures occur through a fatigue mechanism with a total cost of 4.4% GDP to the world's economy
[From Comet to Dreamliner -a History of Aircraft Fatigue, posted on behalf of Rolls-Royce Heritage Trust]


Durability is defined as: "the ability to withstand wear, pressure, or damage."
In many cases, fatigue failures occur suddenly with little prior warning and so it is important to design durable structures to resist fatigue failure.
All issues related to durability attract a lot of interest within the engineering simulation community. This seminar will be an informative and educational day covering the process and best practices for predicting and optimizing product durability and fatigue life.
Presentations from leading industrialists on current practical applications to improve durability, as well as future developments, the seminar will cover:

How to use the results of your analyses to predict potential durability issues


Using simulation to determine appropriate inspection regimes


Common fatigue analysis methods, including Stress-Life (SN), Strain-Life (EN), and crack growth


Physics of fatigue and the development of analysis methods


How to deal with material failures in relation to durability.
Fatigue has been cited as one of the major causes of in-service failure throughout engineering history.
Objectives
Gain insight into some of the challenging areas affecting fatigue design and assessment


Understand how modern tools can help address issues through the presentation of case studies


Interact with subject matter experts from industry, academia and various software vendors


Provide an opportunity to network with other delegates and share knowledge and experience in improving durability.

This awareness seminar aims to bring together practitioners and academics in all relevant disciplines to share their knowledge and experiences, to discuss problems and challenges, and to facilitate further improvements in durability for engineering applications.
Who Should Attend?
Engineers, who have problems with fatigue and life assessment


Design and Test Engineers responsible for product durability in the ground vehicle, aerospace and manufacturing industries interested in durability analysis


Technical Managers, who want to capture the latest advancements in the fatigue area


Researchers who are engaged in theoretical and experimental work on fatigue.
We are pleased to offer limited academic registration places, at the special discounted rate of €30, please contact jo.davenport@nafems.org to register.
Please note that seminar delegates have been offered access to the Science Exhibition from 09:00 until the start of the seminar, please feel free to enjoy the facilities.
Agenda
09:30 Registration
10:00 Chairman's Introduction & Welcome
David Felhos, Chairman NAFEMS Eastern
Europe Steering Committee & Paul Steward
NAFEMS Business Development Manager
KEYNOTE: Methods of Multiaxial Fatigue Strength Evaluation - Bridging
the Gap between Academia and
Engineering Domains
Jan Papuga, Czech Technical University in Prague
Effect of Small Surface Defects on Fatigue behaviour of Nodular Cast Iron
Márton Gróza, Knorr-Bremse
Fatigue of Welded Steel Joints
Marek Slováček, MECAS ESI s.r.o.
Fatigue Analysis of Plastic Assembly in Frequency Domain
Jan Steklý, IDIADA CZ a.s.
KEYNOTE: An Efficient Approach to Low-Cycle Thermo-mechanical Fatigue Calculation
Miroslav Španiel Czech Technical University in Prague
Numerical and Experimental Estimation of Dental Implant Durability
Marcin Wierszycki & Krzysztof Szajek, Budsoft
The Importance of Joint Stiffness and Boundary Conditions in an FE Model for Fatigue Analysis of a Suspension Component Subject to Constant Amplitude or Variable Amplitude Loading
Robert Cawte, HBM Prenscia
Integration of FatigueAnalysis Tool into FE-Software
Petr Vymlátil, Designtec s.r.o.
Application of FEM to Problems of Durability of Plastic Pipes
Jan Poduška , Institute of Physics of Material
Diagnostic, Simulation and Improvement of Durability of Repeatable
Cracking Industrial Cooler
Tobiasz Ziatkowski, Komes Ltd.
16:50 General Discussion & Closing Remarks
17:00 Seminar Close
The event and all presentations will be given in English language.
17:00 Optional Science Show - The Science Theatre offers a show full of
entertaining experiments especially physics
Venue
Science Centre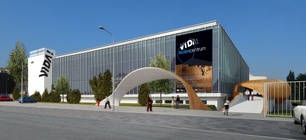 Křížkovského 554/12
603 00 Brno
Contact: info@vida.cz / 515 201 000
https://vida.cz



Gold Sponsor



Exhibitor
Advanced Engineering s.r.o.

KOMES Sp. z o.o.
Media Partner

There is an opportunity available for your company to exhibit at the seminar, giving you maximum exposure to a highly targeted audience of delegates, who are all directly involved in simulation, analysis, and design.
Please contact Jo Davenport at NAFEMS if you would like more information.
tel: +44 (0)1355 225688
email: jo.davenport@nafems.org