GRM Consulting
Genesis
FE analysis solver

Composite Ply Shape and Laminate Optimisation

Structural Optimisation

CAE Led Design

OptiAssist
Composite modeller

Laminate optimisation

Ply Sensitivity Plotter

Composite Reporter

Standalone
VR&D Genesis and GRM OptiAssist provide a Finite Element Analysis and Design Optimisation solution for composite engineers.
Genesis is a fully integrated finite element analysis and design optimisation software package delivering GRM's ethos of optimised engineering design.

Genesis is the optimisation tool of choice for major Automotive OEMs and the majority of the Formula 1 grid. The key differentiator between Genesis and other codes is its provision of both a comprehensive analysis solution for composite
engineers and advanced optimisation and design understanding tools to maximise the benefit of composite materials. The benefits of Genesis include reducing cost and improving performance, reducing engineering time and enabling innovative designs to come to life.

Coupled with GRM's OptiAssist tool, Genesis provides a comprehensive toolset for composite designers to develop optimal structural laminates. Using Genesis & OptiAssist, engineers can automatically develop optimal ply shapes and preforms, optimising for stiffness, strength, vibration and buckling. OptiAssist is an extension to VR&D GENESIS' pre & post-processing tool, Design Studio, delivering an
analysis and optimisation environment tailored to the composite engineer's requirements.

OptiAssist delivers:
Composite Modeller – Tool to generate and manage composite laminates


Composite Reporter – Tool for automatically and interactively generating annotated plybooks for delivery of laminate data to manufacturing


Ply Sensitivity Plotter – Tool for automatically identifying and ranking ply importance for each structural load case


Laminate Optimisation – Leading tools to the development of optimal play shapes and laminate stacks for multiple loading requirements.

Through GENESIS & OptiAssist users can optimise ply patterns and laminates for multiple loading requirements including strength.

Find out more at www.grm-consulting.co.uk/index.php/optiassist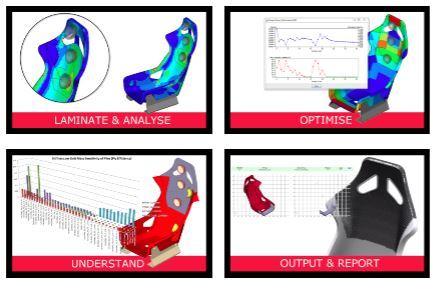 GENESIS & OptiAssist – Courtesy of GRM Consulting