GeoDict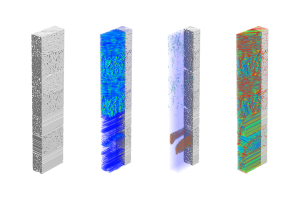 The GeoDict software solves more than just analytical formulas. As a pioneer of components simulation, GeoDict calculates the properties of detailed meshed microstructure models with unique performance and ease-of-use.

GeoDict represents a time and money saving alternative to prototyping. Only the most promising composite materials according to the simulation are manufactured and tested.
Microstructure models are generated directly from imported FIB-SEM and µCT images, or from user-defined fiber parameters (orientation, diameter, weight...). The composite microstructure is geometrically analyzed and then, the properties are simulated:

Deformation, compression, thermal and electrical conductivity, acoustic parameters and more.
Geometrical Material-CAE of composites.
CT-based fiber diameter- and orientation-estimation and laminate-parameter estimation.

GeoDict is the software for targeted, fast, and cost-effective design of composite materials.