Beyond FEA: An Introduction to Evolving Numerical Methods for Challenging Engineering Problems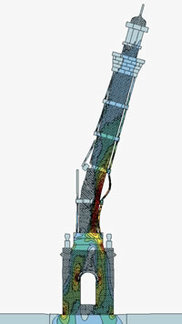 Finite Element Analysis is a well-established technology with a huge range of applications, but general purpose methods can struggle to solve some classes of problem including crack propagation and large deformation processes.
Research into more efficient solutions for such problems has developed a range of numerical approaches, and some of the most effective methods have recently been introduced to commercially-available packages.
Whilst these methods have produced impressive results on demonstration problems, their use has yet to become widespread due to lack of familiarity, understanding and confidence within the engineering community.
Seminar Objectives
The seminar provided an introduction to some of the new methods that are reaching the market, with a strong focus on the pros and cons for practical engineering applications.
Presentations
Equilibrium Elements for the Safe Limit Analysis of Plates
Angus Ramsay, Ramsay Maunder Associates
brinkgreve.pdf
Beyond the Finite Element Method in Geotechnical Analysis
Ronald Brinkgreve, PLAXIS
pres_brookes.pdf
The Finite Discrete Element Method and the Assessment of Structures
Carl Brookes, Ramboll Ltd.
de_vuyst.pdf
Smoothed Particle Hydrodynamics and its Application to Solid Mechanics Problems
Tom deVuyst, Cranfield University
wright.pdf
Coupling a Meshless Method to FE
Louise Wright, NPL
booler.pdf
A Global Energy Method to Predict the Stability and Shapes of Crack
Propagation in Irradiated Graphite Components using XFEM
Owen Booler, AMEC
pres_houston.pdf
Discontinuous Galerkin Finite Element Methods for Multi-Physics Problems
Paul Houston, University of Nottingham
Details
Event Type: Seminar
Location: Middlesex UK
Date: May 14, 2015

Co-Sponsor


The National Physical Laboratory (NPL) occupies a unique position as the UK's National Measurement Institute and sits at the intersection between scientific discovery and real world application. Its expertise and original research have underpinned quality of life, innovation and competitiveness for UK citizens and business for more than a century:
•NPL provides companies with access to world-leading support and technical expertise, inspiring the absolute confidence required to realise competitive advantage from new materials, techniques and technologies;

•NPL expertise and services are crucial in a wide range of social applications - helping to save lives, protect the environment and enable citizens to feel safe and secure. Support in areas such as the development of advanced medical treatments and environmental monitoring helps secure a better quality of life for all;

•NPL develops and maintains the nation's primary measurement standards, supporting an infrastructure of traceable measurement throughout the UK and the world, to ensure accuracy and consistency.

NPL has extensive experience in measurement uncertainty evaluation across all areas of physics, and uses FE simulation for equipment design and to support interpretation of measurement data in a wide variety of fields.