This Website is not fully compatible with Internet Explorer.
For a more complete and secure browsing experience please consider using
Microsoft Edge
,
Firefox
, or
Chrome
Is Design of Experiments worth it?
Is Design of Experiments worth it?
What can we learn from Design of Experiments (DOE)?
Thursday, 15th July 2021
GMT (London) 15:00; Europe Summer Time (Paris) 16:00;
Easter Daylight Time (New York) 10:00; Pacific Daylight Time (San Francisco) 7:00
Overview
Design of Experiments (DOE) is one of the methods used to investigate profitably data collected from physical or numerical experiments.

Whatever the context of application, industrial R&D, agriculture or system setup, this method brings some benefits which concern all communities in touch with:
Understanding reality,
predicting some behaviours,
focusing on relevant data,
improving a system,
capitalizing and sharing knowledge,
reducing the cost of investigations and might also reconcile with statistics.
This event proposes a stroll through these generic goals, in order to raise awareness of the potential benefits of Design of Experiments .
Design of Experiments for Engineering Online Course
An online 16 hours course on Design of Experiments method is proposed in October 2021, specifically dedicated to industrial design Dpt and using reusable open source "R" scripts. This course is in French language but there are plans to run in English next year.
Agenda
Welcome & Introduction
Jo Davenport, NAFEMS
Design of Experiments is Worth More Than a Stroll
Gilles Besombes, Valeo Thermal Systems
Discussion and Q&A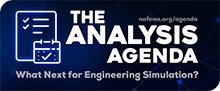 This event is brought to you as part of the NAFEMS Analysis Agenda
This webinar is available for free to the engineering analysis community, as part of NAFEMS' efforts to bring the community together online.
About our speaker ...
Gilles Besombes
After several student and professional adventures in France and Canada in engineering, 33 years were spent at Valeo, as technical and scientific IT coordinator for the Group in charge of Calculation, Modules and components in the Interior Thermal Branch. The last years have been dedicated to national and European collaborative projects as well as to training oriented towards digital experiments in an industrial environment.